Cera blog
Wall mount or Table top Washbasin – Making the Right Choice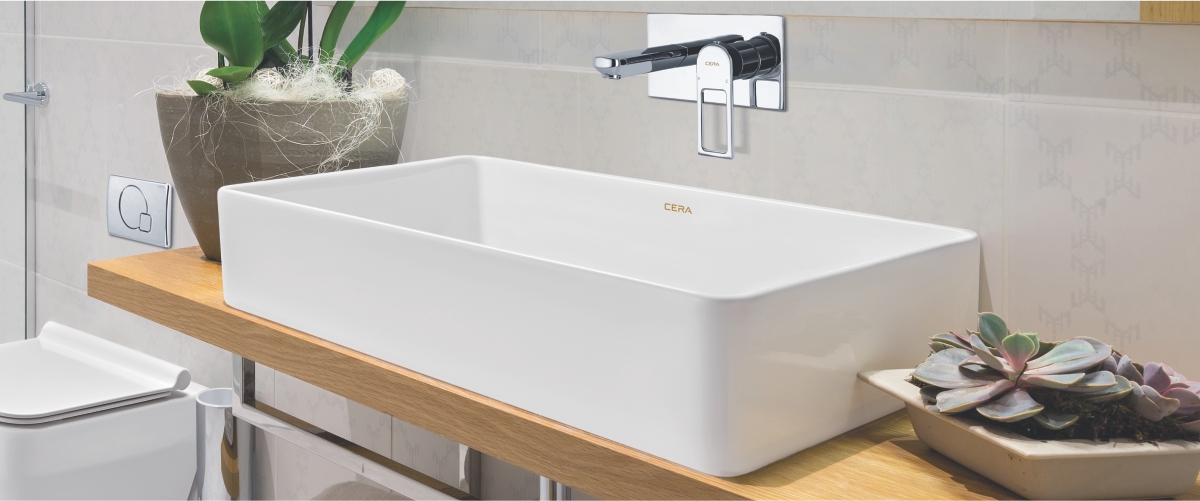 Sanitaryware
May 23, 2021
Wall mount or Table top Washbasin – Making the Right Choice
You are probably thinking, "it's just a washbasin, does it really matter?" You'd be surprised to know how big a difference it can make to your new restroom regarding utility and aesthetics. And, the plethora of options available in the market doesn't make a choice any simpler. The truth is that you can easily get a bit overwhelmed if you are not equipped with the right information. This post gives an overview and comparison between wall-mount and table-top washbasins, to help you figure which one would be apt for your bathroom.
 Table Top Washbasin
A tabletop wash basin is designed to sit on top of the counter. This borrows from the traditional design but exudes a classic, beautiful appearance. These comes in various shapes, size and appearances like round, square, textured and various other options. Some models of table top wash basins often come with vanity which adds to the aesthetics to the space.
With ample table top washbasin designs in the market, it is easy to get inundated. However, a stylish washbasin can attract attention to itself and is a great way to add a piece of statement to your bathroom. Thin rim table top washbasins are the latest and are 30% stronger (for longer life and hassle free maintenance), 40% lighter (for easy installation) and 50% slimmer (making it space saving and stylish). This added feature makes a thin rim table-top washbasin a very practical option. The tabletop and the cabinets come in a myriad of colours, materials and textures which can be matched to the floor tiles and other visual aspects to completely transform your bathroom interiors and give it a luxurious, aesthetic appeal.
Even though a table-top washbasin combined with its paraphernalia may cost higher than its wall-mount counterpart, patrons vouch for the value they can derive from it.
 Wall Mount Wash Basin
 Wall Mount washbasins are the basin mounted into the bathroom wall with rag bolts. This design eliminates the height dilemma as it is fitted in place as required by users' preference. Most homeowners choose a wall mount washbasin because they are cheaper, in comparison, to set up and are available in a wide variety. Since a wall mount washbasin is not sitting on a countertop, it carries a minimalist approach, the lack of cabinets underneath helps save on space with a more visible floor area.
The wall-mount washbasin is merely a vessel to wash up that practically serves the purpose without any frills. It usually comes with all the plumbing and waste disposal positioned inside the wall that gives your bathroom a clean look. On the flip side, there is a lack of storage and landing space which may cause some inconvenience in the long run, and it may also look outdated compared to the neo designs available.
The first step in choosing the right washbasin is understanding the user's needs and requirements. With a clear goal, you can select the style and design that works perfectly for you and enhances your bathroom's aesthetic appeal.